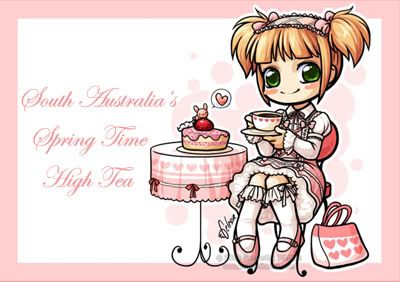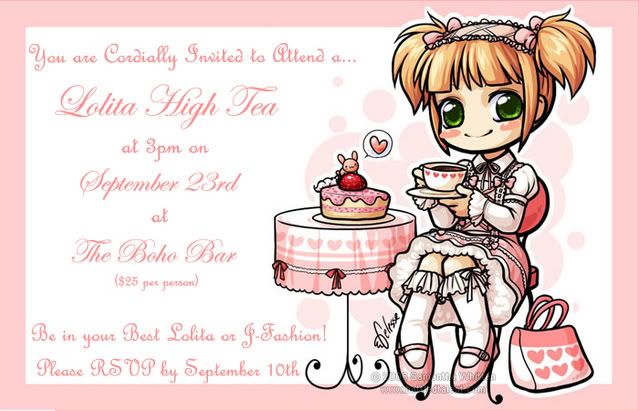 (a BIG thanks to
The Queen of Dorks
queen_of_dorks
for allowing us to use this image ^^)
Its that time to plan the next lolita meetup because there will be a cost involved... but please read on.
We are planning something a little special this time. High Tea at the Boho Bar on Unley Road.
The Boho bar is a simply stunning setting for the perfect high tea at a very affordable price (yup... these rorita's have done their research)
It is described:
"For a funkier, more contemporary take on afternoon tea, head to the red velvet interiors of the Boho Bar. Every Sunday from 3pm to 5pm you can take high tea for $25 a head. You'll be served sandwiches, scones (including the superb gruyere with mustard) and petit fours with your choice of tea. Upsize to a jug of Pimms or a bottle of Moet."
VIEW THE MENU
VISIT THE WEBSITE
When: Sunday Sept 23rd @ 3pm-5pm (weekend after Manifest)
Where: The Boho Bar - 27 Unley Road, Parkside
(Alicen can meet you in Adelaide to catch public transport there if you would like)
Cost: $25 each (more for Pimms or Champagne)
Dress: Your best Lolita / J-Fashion wear for gorgeous photos!!
We need you to RSVP if you can attend so that we can make a booking, however you can pay on the day.
NOTE: We have contacted the Boho Bar as our guest list is getting larger than even we anticipated and they have informed us that they now require a $10 deposit as it has been such a popular event, however since we are getting in so early they are happy to book the Boudoir for us as a private room!!
For more information please go to the
australian costumers guild forum
(please don't make a comment about the "costumers guild" because a lot of lolita's are costumers as well, and not everyone has a LJ!)
So far we have 18 people who have RSVP'd! Yay!